We deliver dynamic presentations and workshops that are packed with insights, practical exercises and real life examples that every lawyer can relate to.
Admittedly our message can initially be tough, not least to those young lawyers and struggling partners who have not proactively invested in their business development and leadership skills, but we leave everyone in the firm inspired and motivated to take action (and supplied with some tried-and-tested new tools with which to succeed).
Formats
Lunchtime keynote
Evening presentation
Law firm retreats
Interactive workshops
Multi-day training
The full 12 module program
Topics
Our presentations and workshops are based upon the best-selling book Juggling the Big 3 for Lawyers and the ProbechZiel proprietary 12 module program.
Other services
Individual and follow-up coaching programs
Consulting on talent development, coaching, and mentoring programs
Form a book group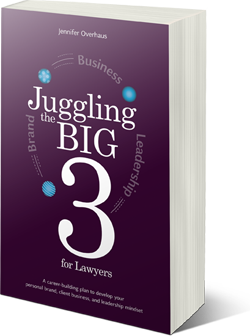 Invite your team to read Juggling the Big 3 for Lawyers and the author, Jennifer Overhaus, will facilitate book club meetings to discuss the topics most relevant to your firm's particular requirements.